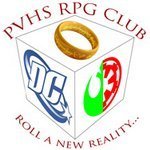 Advisor

Mr. Williams

Room 217

775-727-7737 ext 2217
Calendar

Players must request permission to join this group.
The PVHS RPG Club is a group of like-minded individuals who use their imaginations to venture into fictional realms. Newcomers are encouraged to check us out at a learn-to-play convention when we focus on the basics of play and character creation! Listen to the announcements or check the calendar below for these events.
During weekday meetings we play tabletop role-playing games set in worlds like Tolkien's Middle Earth, Star Wars' New Republic, and the universe of DC Comics. On weekends and holidays members gather to participate in loosely structured battle gaming activities based on the Dagorhir rule set.
To participate in battle-gaming activities students and their parents will need to sign a NCSD "Off-Season Sport Conditioning" waiver and students will be expected to learn the rules.
Meetings times are set at the beginning of the year and updated as necessary. Please see Mr. Williams.